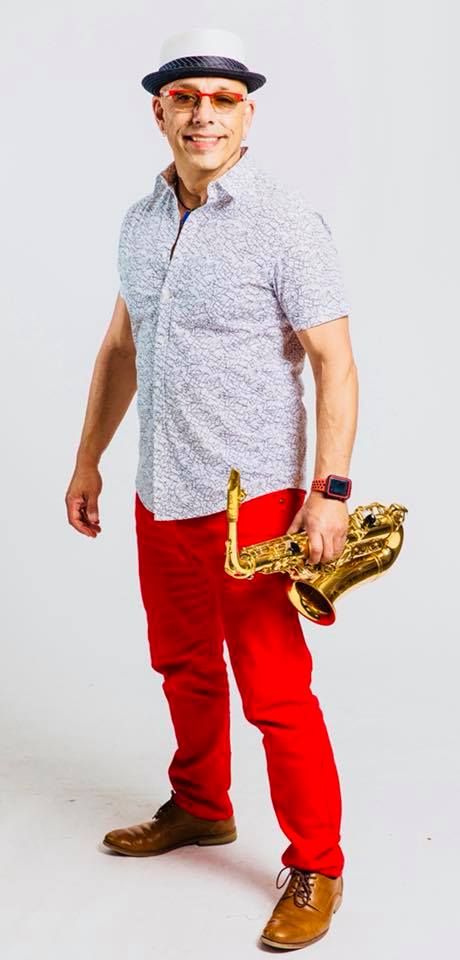 "Known for always putting on an electrifying show, Darcy combines an appealing blend of Pop, R & B, Dance Music and Smooth Jazz that truly showcases his impressive saxophone, flute skills and smooth vocals." 
His saxophone prowess is inspired by the likes of David Sanborn, and his show includes an eclectic combination of original jazz tunes from his six CD's as well as covers of such crowd pleasers as Bruno Mars, Sting, Billy Joel and Frank Sinatra.
His versatility is in all styles of jazz, pop, standards, R&B, and everything in-between.
Alan's saxophone speaks to the hearts of his listeners and his melodies elicit the full spectrum of emotions – inspiring the soul and leaving fans wanting more. Known for his innovative spirit, Alan is equally at home on the stages of the country's notable venues, ranging from the famous "Birdland" in NYC to the Historic Tampa Theater.
 He has recorded six CD's with Rebel Records including his 6th album, "You Asked For It! " which was released in 2021!
Alan has been honored to be one of the fan favorite saxophonists invited to perform at "Saxes Gone Wild" three years in a row!

He makes regular appearances on television and radio wherever he performs, and is always expanding his skills as an instrumentalist, composer and performer.
 Alan is also committed to furthering the future of music in the classroom and has dedicated much of his time to music education and community activities.  In 2004 Alan worked closely with the Florida Chapter of the National Academy of Recording Arts and Sciences on its annual Grammy in the Schools High School program as a featured performer.  For several years, beginning in 1990 Alan joined Tampa's Artists in the Schools Program and spearheaded the wildly popular "Santa Claus and Saxophones," concerts to further music interest and education. Alan performed for several hundred elementary school students during the holiday season where he was able to inspire and enlighten young musicians from across the region.
Whether on the stage, in the recording studio, in the classroom or in the community Alan Darcy represents a commitment to musical excellence and a steadfast determination to keep the music at the forefront."
Notable feature performances also include:
-Main Sail Arts Festival, St. Pete. Fl. 2016
-"Hats Off Music Fest! Saratoga, NY. 2012-2017
-Naples Botanical Gardens-"Jazz in the Garden"
-Clearwater Jazz Holiday w/ The Latin Knights 2012
-Disney World, Orlando, Fla. 
-Hard Rock Café, 
-Hard Rock Casino
-Summer Jazz Series on the Gulf-
Naples, Fl. 2009 & 2013
-Clearwater Jazz Holiday ArtWalk-
Cleawater, Fl.
-CD Release Concert for "Fearless"
at the Historic Tampa Theater,
-Birdland- NYC.
                 
          -Jim Caruso's-"CASTPARTY"-NYC
             -Sidewalk Café-NYC
                -"M" Bar- Mansfield Hotel- NYC
                          -Park-Art Gallery.- NYC
                            -Gallery 128. -NYC
                            -The "C" Note. -NYC
                    -Smalls Jazz Club. -NYC
            -Hilton Center for the Performing Arts.            
             -Rainbow Club- Cruise to Key West.
                        -CitySide,Tampa, Fl.
              -Chipotle. Orlando, Gainesville. Fl.
              -Tampa Museum of Art. Tampa,Fl.
                    -Jazz Club 442, Tampa, Fla.
                     -The Jazz Cellar, Tampa, Fla.
           -The Riverfront Jazz Fest, Tampa, Fla.
           -The Biltmore Hotel, Coral Gables, Fla.
           -The Delano, South Beach (Miami), Fla.
    -The Tampa Bay Performing Arts Center, Tampa, Fla.
          -Dade City Jazz Fest, Dade City, Fla.
          -"Artists in the Schools" , Tampa, Fla.
             -Church Street Station, Orlando, Fla.